Announcement: New LiveRamp Community Portal Now Released (2021-10-18)
We've released a new LiveRamp Community portal that has been designed to better serve you.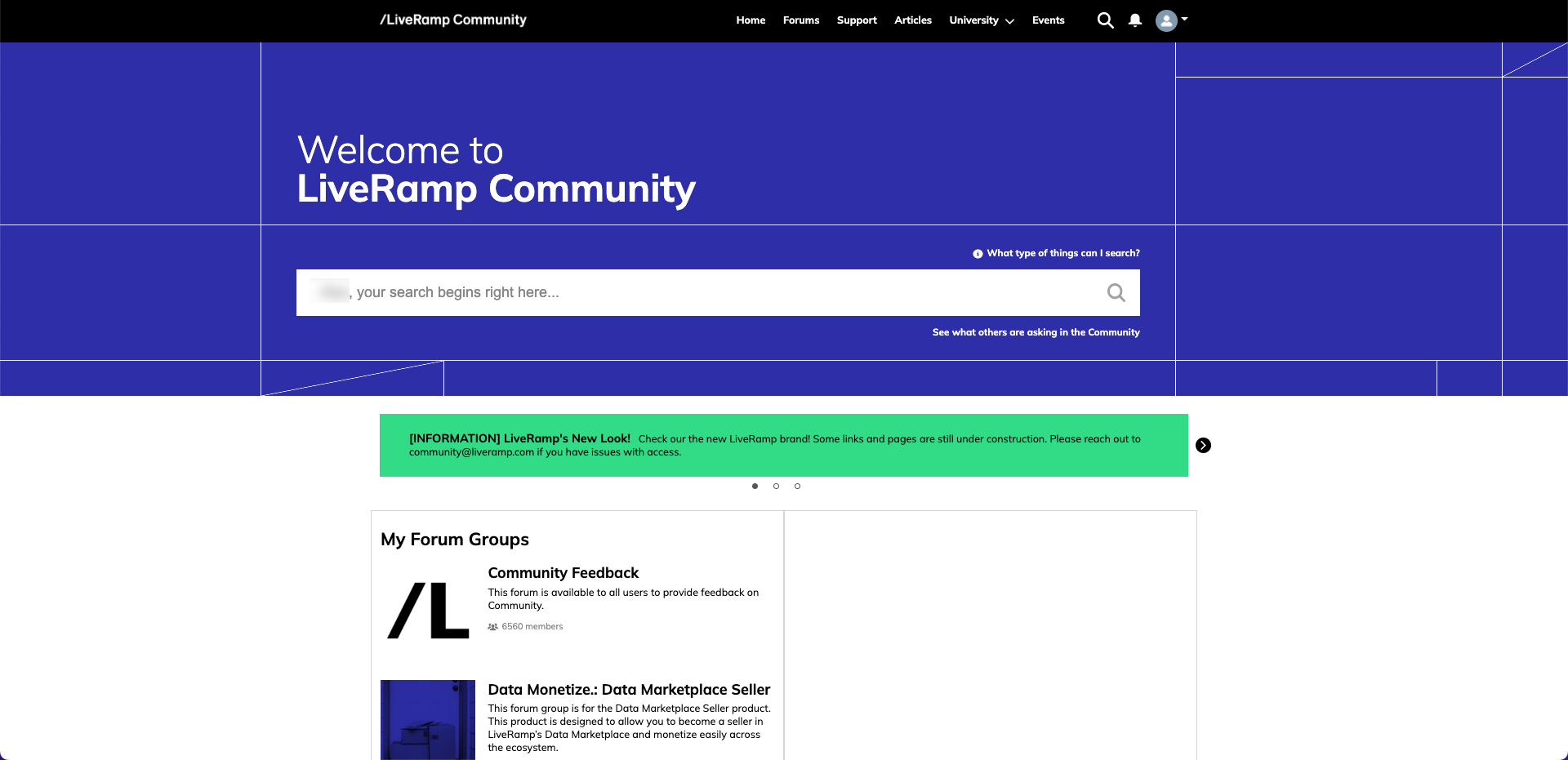 This new community portal has replaced the previous Technical Support Portal (TSP) platform, which has now been decommissioned.
Driven by your growing needs and customer feedback, the new community portal will provide more self-service options, with the following benefits:
Powers single searching across multiple platforms: LiveRamp help documentation, liveramp.com, and Community (including forums and your cases) in a centralized platform.

Improves case management to ensure that your submitted issues are managed with speed and efficiency.

Allows for peer-to-peer discussions and the ability to find answers to your questions quickly and easily.
You access the portal in similar ways to how you accessed the previous TSP:
Click the "Go To LiveRamp Community" tile on your LiveRamp application Welcome page (Connect example shown)

Click the Help icon in the upper right of any page in your LiveRamp application and then select "LiveRamp Community" (Connect example shown)
Note
If you're an end client (a client who buys LiveRamp services from a reseller platform), you do not have access to the LiveRamp Community portal. Contact your reseller platform for technical issues or questions.
Note
The first time you access the portal, you'll need to accept our terms and conditions, as well as update your initial settings. See this article for more information.
See the information below on the various sections of the LiveRamp Community portal.
From the Community home page, you can use the main search bar to search across LiveRamp help content, forum discussions, Community articles, and your company's support cases. You can also view your forum groups, recently viewed cases, upcoming events, your service plan, and more.
The Forums section of LiveRamp Community allows you to engage in discussion on the LiveRamp platform, and its suite of products. Here, you'll have the opportunity to connect with other LiveRamp users that are also using the products you're using. And whenever you have feedback on LiveRamp Community itself, you can use the Community Feedback forum.
The Support section offers a number of new features:
Information on your LiveRamp service plan

Contact information for your LiveRamp team

A list of your cases in progress

The ability to start a "Quick Case" for certain common support tasks (such as setting up a new measurement partner or troubleshooting a file upload) with most information filled out for you in an easy-to-use template.

Resources to help you solve your issue without opening a support case, such as Community-answered questions and recommended solutions during the case creation process.
The Articles section allows you to search LiveRamp content either by product type or by topic. This section also displays recently updated articles and featured articles.
The University section provides access to LiveRamp University training videos on a variety of topics.
The Events section displays featured upcoming events, including LiveRamp events.
For more information on the LiveRamp Community portal, see the Community articles in the portal.