Announcing Safe Haven Product Updates (2021-09-28)
This release provides the following enhancements to the Primary Tenant Admin Center:
For more details, see Managing Your Primary Tenant.
The user details panel has been consolidated to include membership and persona assignments and includes the status of the user's persona assignments.

The Edit User dialog is now full screen and includes membership and persona assignment options.

Once you assign a persona to a user, its status changes to In Progress and then to Success once it is complete. If a persona assignment's status is Failed, you can select the Relaunch option to retry the operation. Sometimes, persona assignments "fail" due to issues that can be resolved, such as Tableau licenses.
Announcement: New LiveRamp Community Portal Coming Soon
We are excited to announce that around mid-October, we'll be releasing a new LiveRamp Community portal that has been designed to better serve you. This new community portal will replace the existing TSP (LiveRamp Community portal) platform, which will be decommissioned when the new portal goes live.
Driven by your growing needs and customer feedback, the new community portal will provide more self-service options, with the following benefits:
Powers single searching across multiple platforms: docs.liveramp.com, liveramp.com, and Community in a centralized platform

Improve case management to ensure that your submitted issues are managed with speed and efficiency

Allows for peer-to-peer discussions and the ability to find answers to your questions quickly and easily
Preview of LiveRamp Community Portal Home page
Preview of LiveRamp Community Portal Support Case page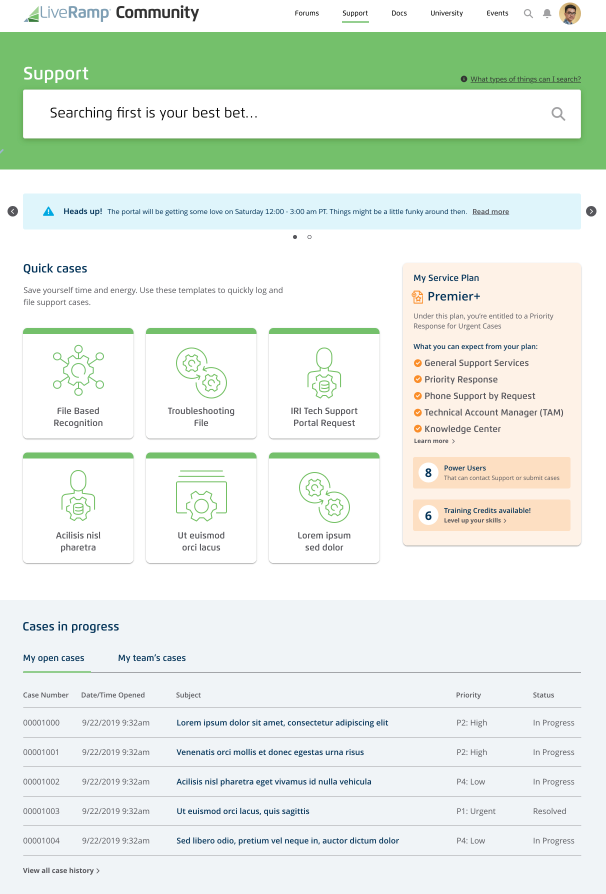 As we get closer to the launch date, we will share more details about this new and exciting community portal.
We welcome your feedback on this and other key usability initiatives we take to improve Safe Haven.