Distribute First-Party Data to Criteo
To distribute first-party data to Criteo, you must grant consent to LiveRamp and then activate a Criteo Onboarding destination account before distributing your segments.
Note
After you've run a Criteo campaign, you're probably going to want to measure the effectiveness of that campaign. LiveRamp offers the Criteo Attribution program, which enables advertisers to send offline conversion data to Criteo to optimize their digital media campaigns toward users who make offline purchases (such as in physical stores). This allows advertisers to understand the impact that Criteo Store campaigns have on offline conversions and further optimize their campaigns based on performance. For more information, see "The Criteo Attribution Program".
Grant Consent to LiveRamp
LiveRamp is required to gain your consent to create and manage segments in your Criteo account.
Note
The consent only has to be given one time per Criteo login. You can provide consent for multiple ad accounts at the same time, as long as they are associated with the same Criteo account. If you have multiple Criteo accounts, you can request additional consent URLs by creating a case in the LiveRamp Community portal.
To grant consent to LiveRamp:
Create a case in the LiveRamp Community portal to request a unique URL that will take you to Criteo's consent UI.

Once you receive the URL from LiveRamp, click the link.

Note

The link provided is only good for one-time use. If the link has been clicked previously, contact your LiveRamp Customer Success Manager to receive a new link.

In the Portfolio access area of Criteo's Access request screen, check the check boxes for the advertiser accounts you want LiveRamp to be able to create and manage segments in.

Click Approve.

You'll then be taken to the Consent dashboard where you can confirm that the correct consent was given and manage the consent (if necessary).
Activate a Criteo Destination Account
To distribute first-party data to Criteo, follow the instructions in "Activate a New Destination Account" to activate the "Criteo Onboarding" destination account tile.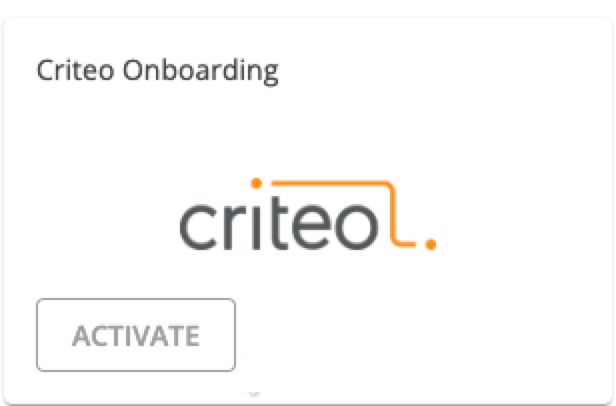 In addition to the instructions above, enter your Criteo API Advertiser ID (a 1-5 digit number) in the Advertiserid field.