International Currencies in the
Data Marketplace
The LiveRamp Data Marketplace supports international currencies. See the sections below for information for data buyers and for data providers.
When browsing the Data Marketplace, you may see segments priced in currencies other than USD. Feel free to buy these segments as normal.
When these segments are requested and delivered to a destination platform, LiveRamp will automatically handle any required currency conversions. For example, if a segment is priced in GBP in the Data Marketplace, and a buyer platform requires pricing info to be sent in USD, LiveRamp will automatically convert the GBP price to USD when delivering the data.
Note
We update our internal currency conversion ratios on a daily basis.
To receive prices in a currency other than USD, contact your LiveRamp representative.
Data providers can select their desired currency when configuring segments for sale in the Data Marketplace (the default is US dollar). The currency can be selected from the CURRENCY drop-down list in the "pricing" section of the in-UI segment creator when configuring a segment individually (as shown below), or by entering the desired ISO Currency Code in column AD of the Data Marketplace taxonomy file when configuring segments via taxonomy file.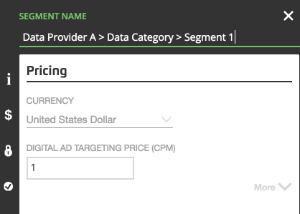 The selected currency will be displayed in both the Seller and Buyer UIs in the LiveRamp Data Marketplace. LiveRamp will automatically handle any necessary currency conversions when distributing your data to our platform partners.
For example, if you set up a segment priced at 1 GBP, and want to deliver it to a DSP that requires pricing information in USD, we will convert your 1 GBP price to USD based on daily updated exchange rates and deliver the converted price to the recipient platform.
Our platform partners independently determine how to display currencies and whether or not to convert them for their buyers. Therefore, whether a data buyer sees 1 GPB or 1.40 USD in a partner's UI would determined by the partner.