Request
Data Marketplace

Segments for

Customer Profiles
To use a Data Marketplace segment in an overlap analysis or in segment building in Customer Profiles, you must first request that segment using the usual method for buying Data Marketplace segments. Once requested, the segment will be displayed in your My Segments page and be available for use in Customer Profiles.
Only Data Marketplace segments that the data provider has enabled for Customer Profiles can be requested. These are the only Data Marketplace segments that LiveRamp has enabled for overlap stats (so they will show overlap percent stats) and for use in Customer Profiles (where they can be used to make combination segments and can be distributed).
Note
Requesting a custom segment? If you and a data provider have arranged for the data provider to create a custom segment for you, the data provider will first need to "share" that segment with you via Connect (following the instructions in the "Share a Data Marketplace Custom Segment to a Data Buyer" section of "Distribute Custom Segments to Data Buyers").
Caution
Data Marketplace segments cannot be used to create lookalike segments in Customer Profiles.
Request the segment following the instructions in "Buy Segment Data from the Data Marketplace" after first setting the Overlap Stats filter to "Enabled":
From the Data Marketplace - Buy Segment Data page, click the MORE FILTERS dropdown.

Click the caret for Overlap Stats and then check the check box for "Enabled".

Click APPLY.

Check the check box for any segment you would like to use in Customer Profiles (check boxes appear when you hover over a segment row).

Click REQUEST SEGMENTS to surface the segments in Customer Profiles.
A confirmation message appears: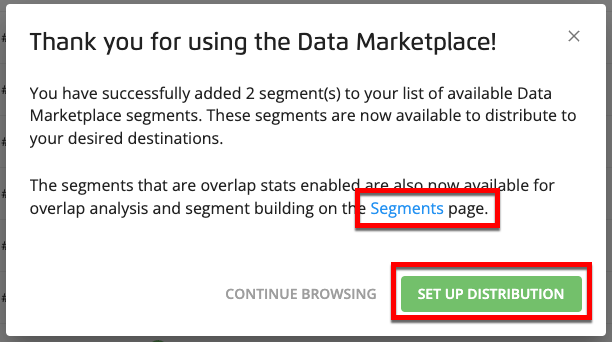 Click Set up distribution to go to the Destination Accounts page to distribute the segment to your desired destinations.

Click on the Segments link text to go to the Segments page to perform overlaps or combination segment building.