Distribute Data to Snapchat
Snapchat requires that an authorization using OAuth be performed by a user with the appropriate permission level before any distributions can be made to Snapchat. Within Connect, OAuth authorizations are performed by utilizing an OAuth "connection" and validating it with your destination-specific information. A connection can be created by any user with the appropriate permission level at Snapchat and can be reused for multiple Snapchat destination accounts. See "Managing OAuth Connections" for information on creating, viewing, and managing OAuth connections.
This validation must be done when the destination account is activated by using an existing Snapchat OAuth connection or by creating a new Snapchat connection at the time of activation.
Distribute First-Party Data to Snapchat
When distributing your first-party data to Snapchat, two integration options are available:
A Record Sync-enabled Onboarding integration, which keeps your data fresh at the destination by enabling data refreshes to utilize user deletions (see "Keep Destination Data Fresh with Record Sync" for more information).

Note

Record Sync is currently only available to U.S. customers.

An Onboarding integration that isn't enabled for Record Sync.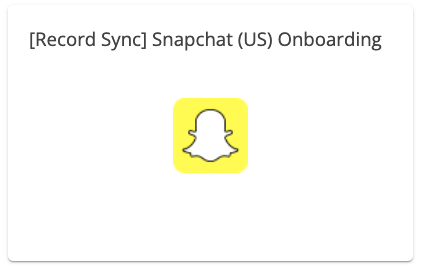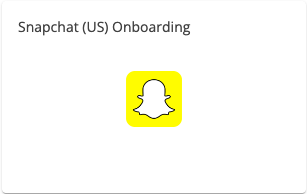 Distribute Data Marketplace Data to Snapchat
When distributing Data Marketplace data to Snapchat, only one integration option is available: "Data Marketplace".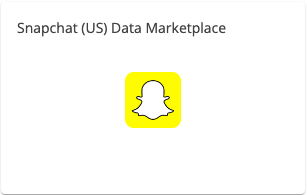 While performing the steps in "Activate a New Destination Account" and before attempting to finalize the activation:
Select one of your existing OAuth connections for that destination from the OAuth Connection drop-down list, or select + New OAuth Connection to create a new connection for that destination and follow the authorization process at the destination's website.

Note

If creating a new connection, follow the instructions to perform the authorization in the popup that opens for that destination. See the appropriate section below for authorization information for specific platforms.

Enter the appropriate information in the other OAuth-related fields (Snapchat example shown - required fields vary by destination).

Click VALIDATE OAUTH CONNECTION.

After the validation process is completed, a validated check mark appears:

Note

If a system error occurs, an error banner appears:

Try to validate again. If you continue to get this error, contact your LiveRamp representative.

Note

If the seat or account ID is incorrect, an error message appears:

Check that the ID is correct and try to validate again.

Complete any additional steps to activate the destination account.
If you have the appropriate permissions at a destination that requires OAuth authorization, you can create a new OAuth connection to that destination. You can create the new connection when activating a new destination account for that destination or from the Connections tab of the My Company Settings page.
To create a new OAuth connection from the Connections tab:
From the Connect navigation menu, click Company Settings to navigate to the Company Settings page.

Select the Connections tab.

Click + NEW CONNECTION.

From the Create New OAuth Connection popup, select the desired destination from the dropdown menu.

If desired, edit the auto-generated connection name.

Note

You cannot use the same name for more than one connection to the same destination.

Click CREATE CONNECTION.

A new window opens with that destination's sign in or login screen.

Note

See the sections below for specific instructions for certain destinations.

Enter your credentials and follow the destination's process to give access.
After you complete the process, the new connection appears in your list of connections and a success banner appears.